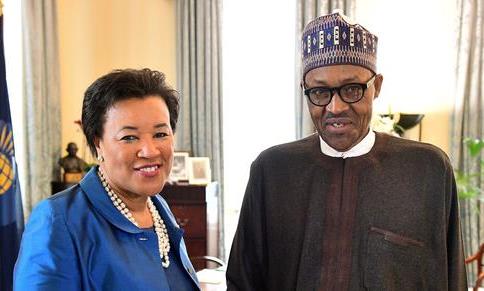 A group of faith leaders have written to the Prime Minister urging him to tackle the "moral outrage" of government corruption.
The letter has been signed by 14 representatives from Christianity, Islam and Judaism and calls on David Cameron to "significantly reduce illicit financial flows".
It's been published as David Cameron welcomes world leaders to the UK for his two-day summit on corruption.
He's under pressure to use the event in London to get tough on territories that refuse to establish public registers of company ownership.
Mr Cameron's position as host was made awkward after he was caught on camera branding two participating states - Nigeria and Afghanistan - as "fantastically corrupt".
The President of Nigeria Muhammadu Buhari (above, with Baroness Asthal of Glasgow) publicly acknowledged his country has a problem with corruption, but also asked British banks to stop holding corrupt money coming from Nigeria.
After revelations about offshore financial activities in the so-called Panama Papers, Mr Cameron last month announced that the overseas territories and crown dependencies - like the British Virgin Islands and Jersey - had agreed to provide UK tax and law enforcement agencies with full access to company ownership details.
But the faith leaders, including Archbishop Francisco de Assis da Silva, the Primate of the Anglican Church of Brazil and The Very Revd Dr David Ison, Dean of St Paul's Cathedral, call on him to go further.
"We see how corruption stunts development and leads to huge financial outflows from the developing world," they write.
"It deprives developing countries of the funds they need to provide decent health, education and other public services for their citizens. We believe this is a moral outrage.
"Sadly, the UK's secretive Overseas Territories and, to a lesser extent, its Crown Dependencies are among the main enablers of such corruption.
"It is disappointing that more progress has not been made around the world on public registers of beneficial ownership since the G8 that you led in 2013."
Dr Hany El Banna - Chairman of the Muslim Charities Forum, Rabbi Danny Rich - Senior Rabbi and Chief Executive of Liberal Judaism and Canon Revd Joel Edwards - Strategic Advisor, Christian Solidarity Worldwide, also signed.
Fonte: premier.org.uk
Foto: Reprodução